Bad breath, referred to medically as halitosis, is a condition that can affect your personal and business communications with those around you. Whether it occurs in the morning, after eating, or just randomly throughout the day, bad breath can make your life challenging. Mouthwash has been advertised as the cure for handling bad breath whenever it occurs. But does it really work?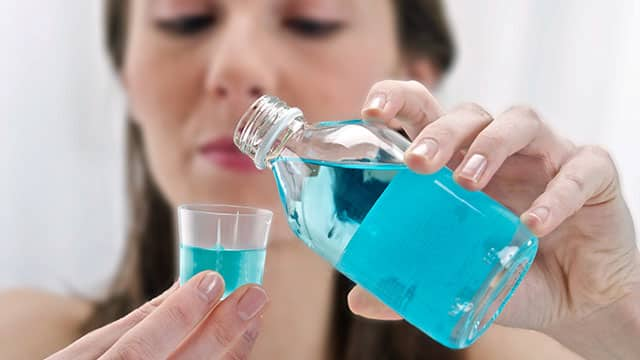 What Exactly is Bad Breath?
Bad breath is a result of odor-producing bacteria in the mouth. This bacteria can enter your mouth from leftover food that gets stuck between your teeth. As the food naturally breaks down, it releases sulfur compounds. This is what's attributed to the unpleasant odor.
Additionally, certain foods can result in bad breath. The most commonly known are garlic and onions. These particular foods contain pungent oils that are inhaled into the lungs and expelled out through the mouth. It's important to note that these particular smelly foods create bad breath only due to oil instead of sulfur.
What Can Mouthwash Do?
Mouthwash is a common compound that is used to help manage bad breath. It comes in many different flavors and will usually leave a fresh scent behind in your mouth. Mouthwashes that contain antiseptic work to kill the bacteria that produce sulfur odor. However, it's crucial to realize that mouthwash is only a temporary fix for your bad breath.
The issue with solely using mouthwash to manage bad breath is that it dries up your saliva glands due to its high alcohol content. When your saliva glands are dried out, they're unable to produce enough saliva to naturally wash away odor-producing bacteria. This allows bacteria to flourish after you've used mouthwash.
How Can a Dentist in Del Mar Help?
When you're dealing with bad breath, it makes sense to consult a Carlsbad dentist who has knowledge about dental health. Many times, a lack of good oral hygiene is the cause of plaque and food buildup in the mouth that results in bad breath. A dentist in Del Mar can easily provide you with a dental cleaning that will remove that plaque and food buildup between your teeth.
Additionally, a dentist in encinitas will perform a professional oral health exam to determine if there are other root causes at play that are contributing to your chronic bad breath. Your dentist in Encinitas may determine that you have gum disease, dry mouth, or even a medical condition that needs to be further assessed by your family physician.
If you're struggling with chronic bad breath, it's time to get help. Give us a call today to get the professional dental assistance that you need!