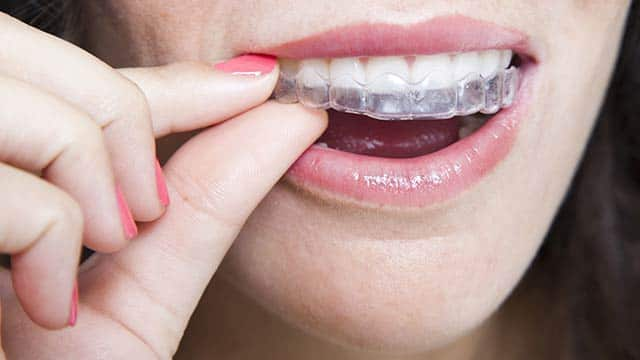 Have a crooked or uneven smile? You know that a cosmetic dentist in La Jolla could address it for you but that there are different procedures to choose from. For the longest time, patients would have to make do with metal braces, which were conspicuous and not at all attractive. Technology has advanced, though, and our La Costa dental office, like so many others across the nation, can offer the Invisalign procedure for those who are interested.
What Invisalign Involves
An Invisalign is a transparent tray made from hard plastic that goes over the teeth to align them by increments. Our office creates these aligners after creating a computerized 3D model of the patient's teeth and determining what movements the teeth should make.
On average, it takes from 12 to 18 months for patients to achieve the results they desire. Patients wear one aligner for approximately one to two weeks, after which they will require another. The great thing is that Invisalign is removable at any time, so you can take them off when brushing, flossing, and eating. However, you must wear the aligner for 22 hours a day. You'll need to remove the aligner for the occasional cleaning, too.
Improving Your Self-Confidence
Invisalign is suited to treat overbite, underbite, teeth crowding, and gaps in between teeth. Though it may not be effective against severe bite issues, our dentist in La Jolla would almost certainly recommend it for more minor cases. It's also good for slightly older patients (between 35 and 50), whose teeth move more easily than in younger patients.
The most attractive feature, of course, is how discreet Invisalign is. You can gain self-confidence even before the aligners give you the perfect smile. And you get to avoid all the potential issues that come with metal braces, such as broken wires and snapped rubber bands.
Maintaining Your Periodontal Health
Another problem with metal braces is that they cause your periodontal health to plummet. To be specific, you raise your chances of getting gum disease with them. Invisalign, on the other hand, doesn't present you with wires and brackets to block you from brushing and flossing your teeth, so you get to maintain healthy gums.
For Greater Comfort
Invisalign is so gentle and gradual in doing its work that you won't feel any discomfort. You also don't need to worry about cutting the inside of your mouth on any sharp metal edges.
Our La Costa dental office would love to schedule a convenient consultation for you about Invisalign. Contact Solana Family Dental today to get started!